For the fourth straight season, Chennaiyin FC will have a new manager at the helm. There are plenty of reasons for the Marina Machans to be optimistic this year, with the return of Owen Coyle being the main factor. Following their quarter-final exit in the 2023 Durand Cup, Owen Coyle will be seeking at least a playoff berth for the upcoming ISL season.
It's an understatement to say that Chennaiyin FC's recent seasons have been disappointing. They last qualified for the playoffs in the 2019-20 season under Owen Coyle. They've had three years in the league since then, and they've managed three eighth-place finishes. Last season under the guidance of Thomas Brdaric, Chennaiyin reached the quarter-finals of the Durand Cup. However, because of injuries to important players during the course of the season, they were unable to advance to the ISL playoffs. The Chennaiyin FC management decided to part ways with the German head coach following an unexpected group stage exit in the 2023 Super Cup.
What's at Stake?
The Chennaiyin supporters will have modest expectations for the forthcoming season because they don't want to be let down by having high hopes once more. Owen Coyle though, won't accept anything less than the best. He will be attempting to maximize the potential of the players he has at his disposal right now. Laying a solid foundation for the team to progress and compete for titles in the upcoming seasons will be one of his main goals this season.
Transfer Activity
Chennaiyin FC had a very active transfer window, signing ten domestic players and a complete overhaul in their foreign department. More than 15 players have left the club, including club captain Anirudh Thapa, who joined Mohun Bagan Super Giant.
Domestic additions include Prateek Kumar Singh, who will take Devansh's spot. They have bolstered their defence with the addition of talented defenders Bijay Chhetri and Sachu Siby alongside Sarthak Golui (on loan) and Ankit Mukherjee. The team has acquired Ayush Adhikari from Kerala Blasters for an undisclosed fee to replace Anirudh Thapa.
Since Chhangte's departure, the left flank has been a position of worry for Chennaiyin FC. As a result, they have recruited Farukh Chaudhary, who has already displayed some flashes of brilliance in the recently concluded Durand Cup. Additionally, they signed Sweden Fernandes on a multi-year deal before loaning him out to Punjab FC. They have added Thanglalsoun Gangte and Irfan Yadwad, two promising Indian attackers, to their roster in an effort to strengthen their attack even further.
In the foreign contingent, Lazar Cirkovic, a 31-year-old Serbian center back, and Ryan Edwards, an English defender, have both joined the team. They have added Brazilian Rafael Crivellaro, who is returning to the Marina Arena, and Italian player Cristian Battocchio to their midfield. In the attack, Jordan Murray has reunited with Owen Coyle after the duo had a successful spell at Jamshedpur FC. Connor Shields, a 26-year-old striker who played for Coyle's Queens Park FC in the Scottish second division last season has also been signed.
Strengths
Owen Coyle's prior experience in ISL will be one of Chennaiyin FC's strengths in the forthcoming season. He has a win percentage of greater than 50 in the league and has previously won the ISL shield with Jamshedpur FC. Furthermore, with Owen Coyle's return, the attendance for home games may increase, encouraging the team to perform well.
The pacey forwards of Chennaiyin FC will be a real headache for the opposition defence. Crivellaro and Battachhio in the midfield will be looking to exploit the spaces in the opposition defence with their line-breaking through balls towards the pacey strikers and wingers.
The versatility in the squad will be a key asset. They have a number of talented players that can fill in at different spots. For instance, Ankit Mukherjee, a right-back by trade, excelled as a centre-back during the Durand Cup. Similarly, Sachu Siby showed his talent while playing both as a left and right back. Not only Domestic players, but foreigners like Cristian Battocchio can slot in anywhere across the midfield while Connor Shields can be explosive on the wings as evidenced in the Durand Cup.
Weakness
Chennaiyin FC are making the same error they did in the past by failing to recruit an Indian creative midfielder. Rafael Crivellaro's absence will leave the team's midfield without a creative force. This was obvious when, without Rafa, Chennaiyin struggled to create chances against FC Goa in their Durand Cup quarterfinal match.
Despite having a squad of outstanding youngsters, Chennaiyin FC lacks an Indian leader. They lack an Indian leader like Pritam Kotal, Subasish Bose, Rahul Bheke, Sandesh Jhingan, or Khabra, however, they have Ryan Edwards, a proper leader who plays in the backline. Mohammad Rafique, who has the most experience on the Chennaiyin team, is not a starter anymore.
Possible Starting XI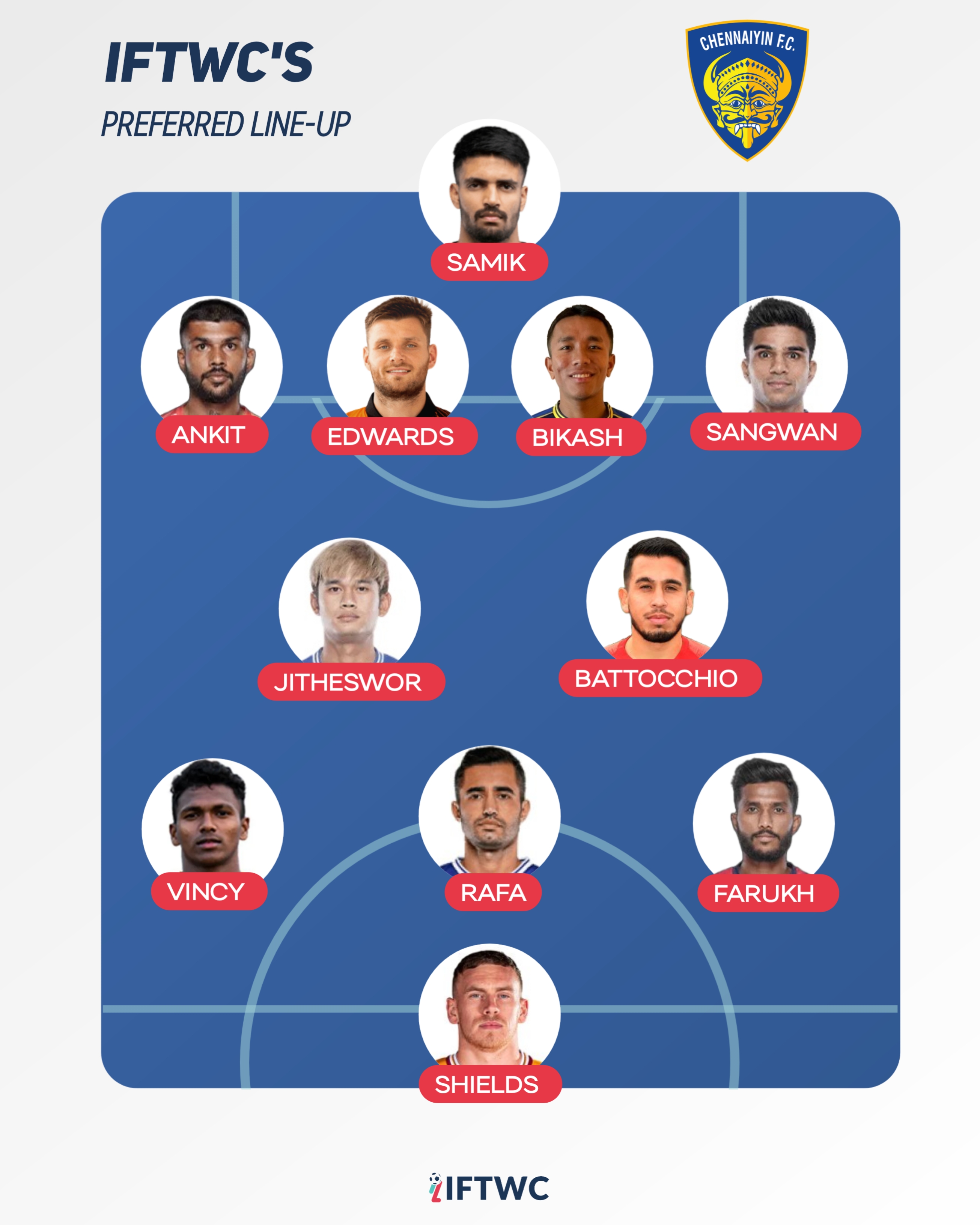 One youngster to watch out for
There are numerous young players on the Chennaiyin team that have a lot of potential. But Sachu Siby will be the one to keep an eye on for the Marina Machans. The fullback is versatile and energetic and will help Chennaiyin going forward.
Bikash Yumnam, Bijay Chhetri, Jiteshwor Singh, Ayush Adhikari, Vincy Barretto, and Irfan Yadwad are other youngsters to keep an eye on. They might be incredibly valuable assets for the team in the following season if given the right guidance and opportunities.
Prediction
While Chennaiyin FC might not be direct contenders for the ISL shield, they will surely be a side to keep an eye on. With Owen Coyle's experience and the overhaul in the squad, they will surely aim to finish higher in the points table than their last three seasons and will surely be aiming for the playoff spot. But, as stated earlier, building a solid core for the upcoming seasons will be Coyle's main goal this season.
---
Follow IFTWC for the latest updates on Indian Football.