With ISL 2020-21 season being just a month away and the transfer window closing with the squad submission completed, the only question which is remaining is how clubs are going to line up. ISL 2020-21 season might be one of the most competitive seasons and a season which might make history as the matches are behind closed doors, Mohun Bagan merged with ATK, East Bengal entered into ISL.
It is indeed an interesting season for all the Indian football fans as one of the oldest clubs in Asia are in the league and even one of the youngest ones are in the league this time. It is the second season of Hyderabad, and will they be able to compete with the other teams?
The starting XI decides everything. Whether it may be a win, lose or a draw, it all depends on the starting XI of a football team. So how can Hyderabad FC line up this season to compete against the best of the best?
Goalkeeper
Subrata Pal
The name Subrata Pal is very familiar with every Indian football fans. His wonders in the 2011 Asian Cup against Korea stunned everyone. This gave him the name Spiderman. The Arjuna awardee has traversed the whole country by playing for five different Indian clubs. Even if players somehow try to cross the strong Golconda walls of Hyderabad FC, they have to face the real guardian of the fort, the Indian Spider-Man. Subrata Pal is a very huge advantage for the Nizams.
Defenders:
Sahil Panwar (LB), Adil Khan (CB), Odei Onaindia (Spain – CB), Asish Rai (RB)
Last season the Nizams tried 3-men-defense for many matches and had Matthew Kilgallon and Rafa López as defenders but Rafa got injured and played only 6 matches for the Nizams. So Gurtej Singh and Adil Khan had to cover up for Rafa. Nikhil Poojary was a right-back last season, even though his original position is right-wing. Sahil Panwar was playing in his own position as Left Back.
But this season the team has built up their defence, with Adil Khan playing as a centre back along with Odei Onaindia. Sahil Panwar might play his usual position and Ashish Rai in his original position as a right back. The Nizams have two experienced and two young players in their defence. The flanks are covered up with young energetic players and the centre is strong with two vigorous players.
Midfield:
Joao Victor (Brazil – DM), Nikhil Poojary – (CM), Narzary (LW), Lluis Sastre (Spain – CAM), Joel Chianese (Australia – RW).
The Nizam's midfield lacked co-ordination last season even though they had Stankovic and Nestor in the midfield. This time it is probably going to be different as all the foreigners have left and they have signed six new foreign players. In the defensive midfield, they will have Joao Victor and Nikhil Poojary. In the attacking midfield, the most important player is going to be Lluis Sastre. On the flanks, it will be Narzary on the left, Chianese on the right. This attacking midfield looks fast, strong and can push forward and break the defence of the opponents.
The original position of Nikhil Poojary is RW but he can play anywhere on the field, as last season he played as an RB, LM, RM too. So he is the most versatile player in the squad and Manolo Marquez will keep on changing his position regularly to match his requirements in every match.
Nikhil might be one of the key players who can shape up the whole match. The whole squad is flexible, many players can play two to three positions. This will help Manolo to confuse the opponent team and have possession. As he is a type of coach who concentrates more on defence, these abilities of the players will help him a lot.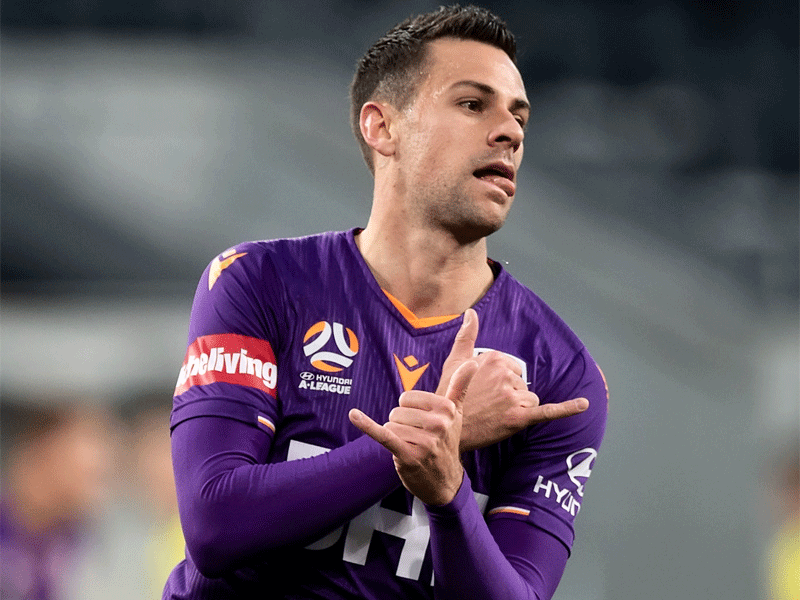 Forward.
Aridane Santana (Spain – CF).
Marcelinho, Giles Barnes and Bobo were the go-to attackers for Hyderabad FC last season. The expectations on these attackers were high, but Bobo and Marcelinho combined have scored only 12 goals. This time it all depends on the Spanish beast Aridane Santana. Santana was a real goal machine last season bagging 9 goals and 2 assists in just 14 games. He could've done better if he hadn't missed out the 4 games in the campaign due to a foot injury.
The Spaniard is very good at heading the ball. He drops deep to collect the ball, and can also perform on the flanks as well. Most of his goals are from inside the box. Santana might score double-digit goals if he doesn't get injured this time. In the end, it all depends on Santana's performance for the Nizams.
Hyderabad FC Probable Matchday Lineup
Formation: 4-2-3-1
Substitutes: Laxmikant Kattimani, Konsham Singh, Nikhil Prabhu, Mohammed Yasir, Sahil Tavora, Abhishek Halder, Fran Sandaza, Liston Colaco, Lalawmpuia.
Hyderabad FC strength:
The club has a good blend of strong foreign signings like Santana and Sastre and Indians like Nikhil Poojary and Adil Khan. They are backed up by a tactically sound Spanish coach Manolo Marquez.
Hyderabad FC weakness:
Coordination with the players is an issue which was evident during the previous season as well. Due to the overhaul at foreign signings and head coach, Hyderabad might take some time to gel.
Players to look out for: Liston Colaco, Akash Mishra and Nikhil Prabhu.
Follow IFTWC for all the latest updates on Indian Football and download our app from playstore.