The U-17 Women's World Cup is just around the corner as it will be held between 17th February to 7th March 2021. It will be India's historical maiden U-17 WWC and the venues for the same are Ahmedabad, Bhubaneshwar, Kolkata, Navi Mumbai and Guwahati.
The Blue Tigresses are all set to take the field for their preparatory camp ahead of the culminating FIFA U-17 Women's World Cup. Thomas Dennerby, the Swedish manager who previously coached the Nigerian Women's team is at the helm of the team India.
The Team has a pretty brilliant track record in the past as they bagged the Title of 2019 SAFF U-15 Women's Championship. Lynda Kom the talismanic striker was adjudged as the top scorer of the tournament with 4 goals to her name. The team has hosted Sweden and Thailand back in December 2019, despite of losing against much higher ranked Sweden, the Tigresses defeated their Asian counterparts by a scoreline of 1-0 to enter in the final of the tournament.
February 2020 was quite remarkable as the team flew to Turkey to play a couple of friendlies against Romania, where the women in blue astonishingly defeated Romania (1-0). Indeed they have some fruitful results in their favour as they qualify as the hosts of the World Cup.
The squad for the preparatory camp for the U-17 Women's World Cup is as follows:
Goalkeepers: Tanu, Anshika, Adrija Sarkhel, Manju Ganjhu, Anjali Barke, Anjali Munda

Defenders: Kritina Devi Thounaojam, Jyoti Kumari, Shilky Devi Hemam, Nirmala Devi Phanjoubam, Purnima Kumari, Astam Oraon, Nisha, Ritu Devi

Midfielders: Kiran, Nitu Linda, Martina Thokchom, Aveka Singh, Priyangka Devi Naorem, Poonam, Santosh, Shri Devi Subba, Babina Devi, Anju, Sunita Munda, Mariyammal Balamurugan, Sumati Kumari, Amisha Baxla, Anita Kumari

Forwards: Lynda Kom Serto, Daisy Lisa Crasto, Priyanka Sujeesh Pottekk, Laxmi Thatal, Karen Estrocio, Sai Sankhe
The team will be raring to get into action as the camp is scheduled from 20th July to 1st August 2020 in Goa. The U-17 Women's World Cup would definitely be a crucial event and it will act as the catalyst to encourage more girls to join the sport.
We wish the very best to the Blue Tigresses. Lets #KICKOFFTHEDREAM!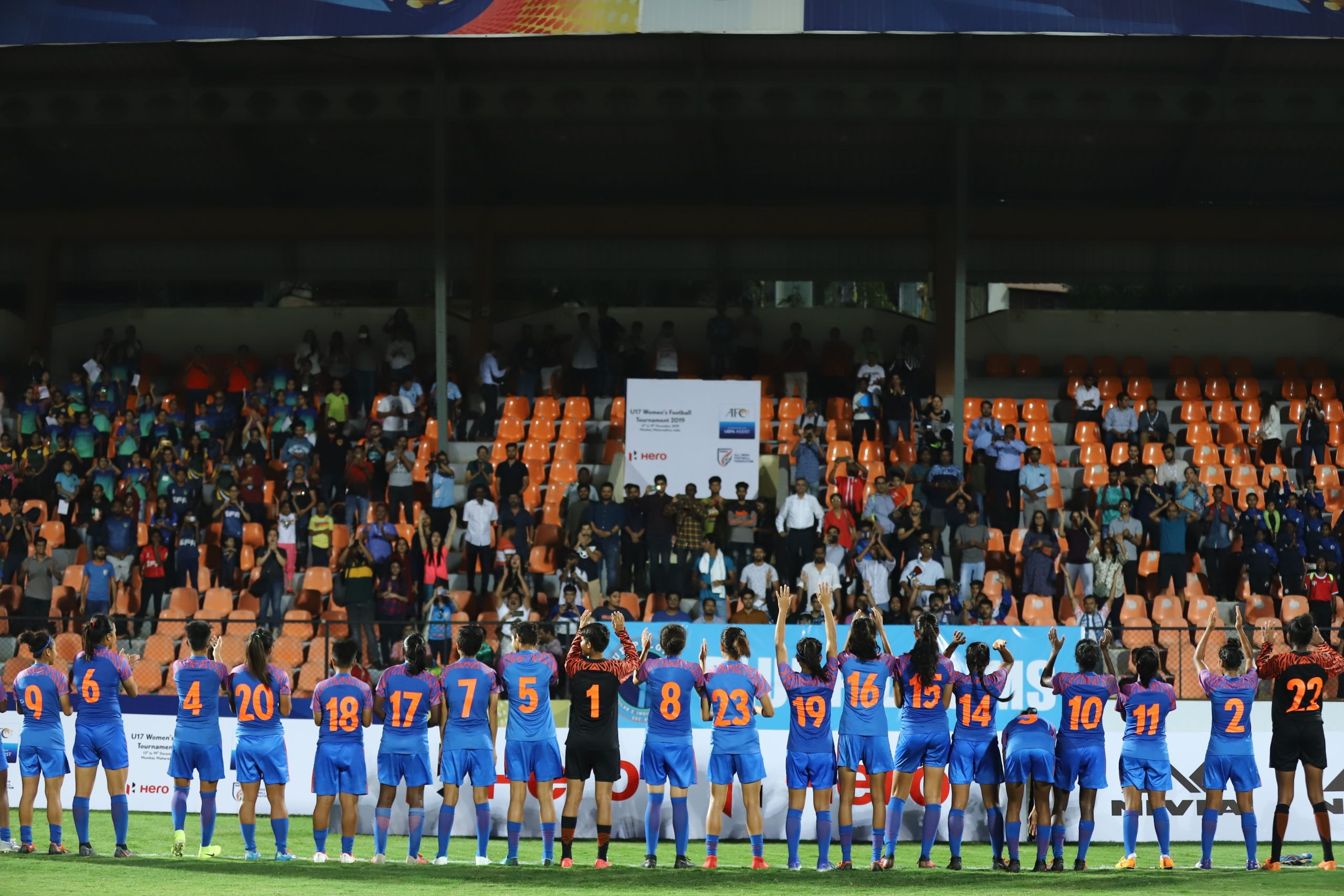 ---
Check out our website for regular updates of Indian Football!
For all Transfer Rumours – https://iftwc.com/transfer-centre-indian-football/
Our Social Media Handles :
Instagram – https://instagram.com/iftwc_
Facebook – https://www.facebook.com/IFTWC/
Twitter – https://mobile.twitter.com/IFTWC
Telegram – t.me/techtroiftwc
YouTube Channels –
Techtro-IFTWC – https://www.youtube.com/channel/UCzrGZMoQE_XrnAj7HEM1tRw
Techtro Indian Football Hub – https://www.youtube.com/channel/UCG2HEh0H_BuqDFaePTcsCeA